News
January 08, 2015
NEWS FROM....KULPER & COMPANY
January 8, 2015
Dear KULPER & COMPANY Contact Network Members:
It is always a pleasure to write and share my thoughts and information with you; there are now approximately 5,000 members of our contact network worldwide. It will continue to be my goal to interact with you in as highly personalized manner as possible so to the extent you can please keep me posted on how and what you are doing now. I am interested to know.
Over the past months my messages to you and fellow KULPER & COMPANY contact members have concentrated on our desire to be of service to companies, higher education institutions and non profit organizations that can benefit from our unique brand of professional executive search consulting service. We want your business and will always work hard to earn it by delivering the results you want and need. We are a full service executive search firm interested in assisting our clients attract the best candidates for their most important leadership initiatives. KULPER & COMPANY has years of experience successfully assisting universities, companies and non-profit organizations.
If you are a prospective or current client:
What are your key hiring needs, now?
What is your timeline for bringing new leaders to your organization?
What will the hired candidate need to do to meet or exceed your expectations?
We will be glad to confirm a confidential complimentary phone call to discuss this with you; please email or call me at (973) 285-3850.
News Items:
I recently had the pleasure hearing Kevin Cummings, CEO speak about what he and his colleagues have done and are doing to grow and develop Investors Bank. Kevin is an active member of the NJ Independent College Association and was the keynote speaker at their recent annual meeting. Investors Bank, with over $17.8 billion in assets is the largest bank headquartered in New Jersey. The Bank has a network of over 125 retail branches located in New York City, New Jersey, and Long Island. Investors' consumer banking services include complete deposit products, online banking, home equity loans and lines of credit and a full array of mortgage loans.
Kevin's speech is informative, inspirational and highly actionable. He and his team have done a terrific job shepherding the bank to their current leadership role in the NJ and NYC financial services marketplace by creating a culture of responsiveness and innovation. I hope you will enjoy learning about the Investors Bank story and benefit from Kevin's speech.
TheNational Academy of Inventors is growing rapidly under the leadership of Keara Leach, Executive Director and Dr.Paul Sanberg SVP for Research, University of South Florida. If you are a university President, Provost, VPR or university researcher/patent holder you will want to learn about this great organization. University members and NAI Fellows are listed on the NAI website. The next NAI conference will take place at CAL TECH this coming March.
Dean Siamack Shojai is the new leader of the Cotsakos College of Business at William Paterson University in Wayne, NJ. I am a member of the Dean's Advancement & Advisory Board (DAAB) and chair the nominating committee. The Cotsakos College of Business is working hard to create innovative and useful programs in an effort to be known as the business school in New Jersey that does the most for its students and alumni through its close connection and collaboration with industry. For example, the college of business operates the Russ Berrie Professional Sales Institute which is devoted to preparing future sales professionals for sales management positions. Their students regularly compete and win national sales challenge competitions. The best news is that their graduates then go on to be hired by top national companies like ADP and others of similar standing. If you are interested in learning how the Cotsaksos College of Business can help your company please contact me; I will be glad to put you in touch with Dean Shojai.
Rider University is doing a great job fostering global educational experiences for its students. While many universities offer study abroad options and invite international students to come to campus, Rider is going further by leveraging the power of the internet to bring together students located on their Lawrenceville campus with students in Northern Ireland, Iraq and other countries that have experienced recent upheavals, The resulting dialogue helps to promote student learners and perhaps peace and understanding for the fortunate participants.This inspired initiative is rightfully called The Student Global Village .Through regularly scheduled video conferences a virtual classroom is created. Dr. Roberta Fiske-Rusciano facilitated a live demonstration of the incredible power of this approach at the annual meeting of the New Jersey Independent College Association. Dr Fiske Rusciano is glad to assist other universities should they wish to explore implementation of a similar program for their institution; for further information please contact her directly ruscianor@rider.edu We wish Dr. Fiske-Rusciano much continued success in her efforts to continue to build The Student Global Village---around the world.
NJIT's Dr. Donald Sebastian was recently named president and CEO of the NJ Innovation Institute which is focused on bringing NJIT's prodigious research capabilities together with company research and business development leaders in NJ. Don is a great choice to lead this effort as he is very active in the research and development community of NJ and nationally. For more information about the NJII please visit the NJII website.
Worcester Polytechnic Institute recently named Dr. Laurie Leshin its 16th president. Dr Leshin takes over from Dr. Dennis Berkey who successfully led the institute for many years. Dr. Leshin held senior level positions at Rennselaer Polytechnic Institute and NASA prior to joining WPI. We congratulate Dr. Leshin on her recent appointment and wish her much success.
The Illinois Institute of Technology recently announced that Dr. Alan Cramb will become its next president when Dr. John Anderson completes his term as president later this year. Alan is currently provost of the IIT. Our sincere congratulations to Dr Cramb on being named Dr Anderson's successor.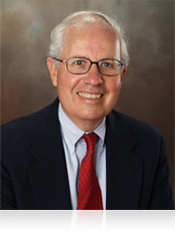 Keith D. Kulper, President & Founder
KDK Musings
It is hard not to notice the impact of oil prices on the economy. Personally, it is very nice to pay almost a dollar less per gallon at the pump when I fill up and a cost savings of about $50 per month or $600 per year. Not life changing for me personally, but certainly this cost reduction is transformational for companies like FedEX, UPS, United Airlines, or United VanLines and for people who must commute long distances each day to their workplaces. Clearly, though, any company that is highly dependent upon the price of this volatile commodity will continue to have a big exposure. It should be no surprise to anyone who remembers the oil crisis of the '70s that Saudi Arabia (SA) wants to continue to dominate the petroleum market no matter how much oil is discovered around the world. SA is pumping as if the price drop hasn't happened. Lower oil prices though have to be viewed as a net positive for consumers and most companies, too; so enjoy it while it lasts!
All this notwithstanding the stock market is being temporarily shocked by the new reality of oil oversupply combined with economic malaise in the EU and Japan. Ironic isn't it? Just when the DOW hit 18,000 for the first time we now may be looking at DOW 17,000, before we see 18,000 again! That said, most stock market prognosticators are calling for a 7-10% gain in the DOW during 2015---I beleive we will hit DOW 19,000 or higher by year end. While we prefer large cap US based companies in the long run I do believe that his could be a good time to consider investment in international companies since current prices are somewhat depressed and the effects of their central bank stimuli haven't fully manifested for them as yet.
Oil being a volatile commodity it will always be subject to wild price fluctuations. We continue to heavily depend on it for transportation, chemicals, heating and other uses. Nonetheless, we seem to be witnessing one of the last great gasps of the oil industry's dominance. While this deep breath is being taken an inexorable transition away from fossil fuels continues apace. Germany and Denmark are planning to be 100% fossil energy free for their power generation needs by 2050; can other European countries be far behind? What about Japan and China? When will American jump on this band wagon with both feet? We believe that a carbon tax regime coupled with a much higher federal gasoline tax will be implemented within 3-5 years in America. The lower price of gasoline at the pump will make it much easier for Congress to finally up the tax rate on gasoline---something that hasn't happened since 1993! I think this will most likely occur after the 2016 presidential election but they are already debating it so don't be surprised to see something done sooner---in a bi-partisan way, of course!.
Oil companies are led by very savvy people and their resources are breath taking. But with humanity's ever increasing acceptance of the scientific bases of global warming led by the likes of the World Energy Forum, the UN, the Sierra Club, and yes, Hollywood, too, the end of dominance for oil companies is in sight! While we can't control the meltdown of the glaciers---it's too late for that I am afraid---we can reduce the amount of new carbon introduced into the atmosphere. Concurrently, moves toward the wider spread deployment of renewable power are gaining momentum every day; this is being supported by progressive government policies, forward looking business leaders, investors and environmentalists. A company like Cape Wind has received clearance to construct the first offshore wind farm in the US; how many will follow and what will be the impact on electricity generation cost as wind turbines, solar panels and other renewal power sources become ubiquitous? How will these factors further stimulate the wider acceptance of electric vehicles and other less polluting modes of transportation? Time will tell….in the meantime keep an eye on the stock prices of companies operating in the realm of "green/renewable" energy…I believe more than a few of the new ones will become household names within 5 years.
There is still so much monetary stimulus in effect from the FED and more coming from the central banks of Europe, Japan and China, to stimulate their economies. I think a trip to Europe might be in order for us in 2015 to take advantage of the strong dollar…I will have to brush up on saying "good morning" and "thank you"…in Italian, French or German! Perhaps we will really see a ¼ point increase in the Fed Funds rate by June 2015. Does that create cause for concern? Yes, of course it does but realistically, it has to happen eventually, and it will take a series of rate increases over an extended period of time before the Treasury Yield Curve inverts and we have a FED initiated economic slowdown. Do you remember when the 90 Day T Bill last paid 5%? Its yield stood at 4.94 % on 11/20/06. Today its yield is a whopping .03%---effectively, zero! It can't stay there forever...but when the rate does go up it will done gradually; the FED doesn't want to trigger a recession. The US unemployment rate is still above 5%, so companies are not yet experiencing broad based pressure to increase pay to retain employees but hiring is definitely increasing steadily and will continue along this path over the next several years. We should see the unemployment drop below 5% during 2015---perhaps as early as this June.
If you are considering moving to another job you will find that companies and organizations are becoming more willing to offer a sign on bonus---how about that? If your company is not doing that yet---look for this to start happening. We expect to be increasingly busy here at KULPER & COMPANY…so take heart if you are a candidate---and give us a call if you are an employer focused on hitting your revenue growth targets for 2015!
2014 ….a banner year for the Kulper Family…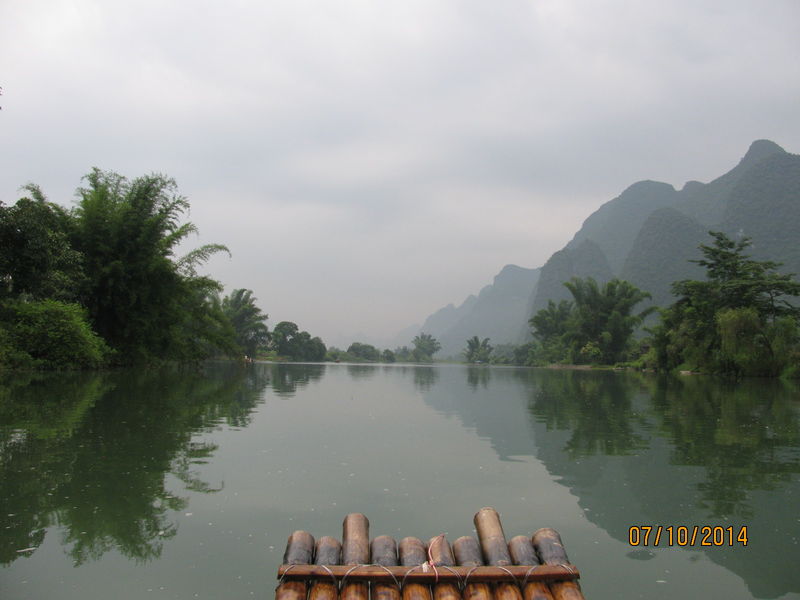 Yulong River, Yangshuo, China
In late June, my wife, Dr. Denise Kenny Kulper. EdD., retired after many years of teaching; her students and colleagues love her and she was treated so kindly by her colleagues at several dinners and functions they hosted for her to celebrate her retirement. Congratulations, Denise!!! In July, we traveled to Hong Kong for the marriage of our son Sloan to Gahyee Tsui. We were welcomed as honored guests by the Tsui family and the wedding proceedings at the Hong Kong Club were fantastic. Sloan is currently in the 2nd year of his PhD program in the medical school at the University of Hong Kong; he is working on innovative medical device designs for orthopedic applications. After the wedding we enjoyed a trip to Guilin and stayed in the famous karst dotted river region of Yangshuo---unforgettable, magical and incredibly beautiful ( see picture above). We can highly recommend the Secret Garden boutique hotel to any intrepid travelers interested in an authentic experience in mainland China. The area is gorgeous and the people are welcoming, hard working and gracious. In August, our daughter Kendall gave birth to our first grandchild, Iris Genevieve Toniatti---who is a healthy, happy baby and a lot of fun, too. In September, Kendall published her first novel, Salt & Storm Little Brown: New York, NY. The story is about a young girl on an island like Martha's Vineyard during the whaling days of the 19th c.; you can find her book on Amazon or in any Barnes & Noble; hope you will decide to pick it up for one of your youngsters! Her second novel will be published in 2015.
A few final thoughts....
We feel great empathy for those around the world who suffer from the effects of intolerance, injustice and violence. Ultimately, are all Parisians, New Yorkers, Lahorians, Bagdadians and Hong Kongers who love our families and want nothing but the best for them. Do what you can to work for understanding, justice and freedom in all that you do in your life.
"Each of us has a vision of good and of evil. We have to encourage people to move towards what they think is good... Everyone has his own idea of good and evil and must choose to follow the good and fight evil as he (or she) conceives them. That would be enough to make the world a better place." Pope Francis
We look forward to a great year ahead here at KULPER & COMPANY. Please update us on any hiring needs that are developing in your company or organization----it will be great to work with you on a key hire for your organization during 2015.
Peace....
Keith D. Kulper
President