News
February 25, 2011
News From ....KULPER & COMPANY
Good afternoon to everyone in the KULPER Contact Network. It has been a little while
since my last newsletter. New searches are in the works, so standby for more announcements about them in the coming weeks. As the entire economy is experiencing a steady rebound we are hearing from more clients and prospects who want our brand our executive search consulting service. This is gratifying for us here and we thank you for your interest in our firm. Our mantra is: "the right hired candidate" and really, that says it all.
At the suggestion of our friend and website designer, Ian Loew, www.lform.com, I have started to publish a blog ---if you are interested in having a peek at it or becoming a "follower" please go to www.kulpercompany.com > BLOG
1. click "Sign In" top right hand corner
2A. if you don't have a Google Account (aka - Gmail) you must click "Get started" in the right hand column and simply follow the process
2B. if you do have a Google Account enter your username and password
3. to comment on a post click on "comments"
In my blog I write about issues concerning executive search consulting ( and sometimes other topics) that I think are interesting. I hope you enjoy taking a look at it.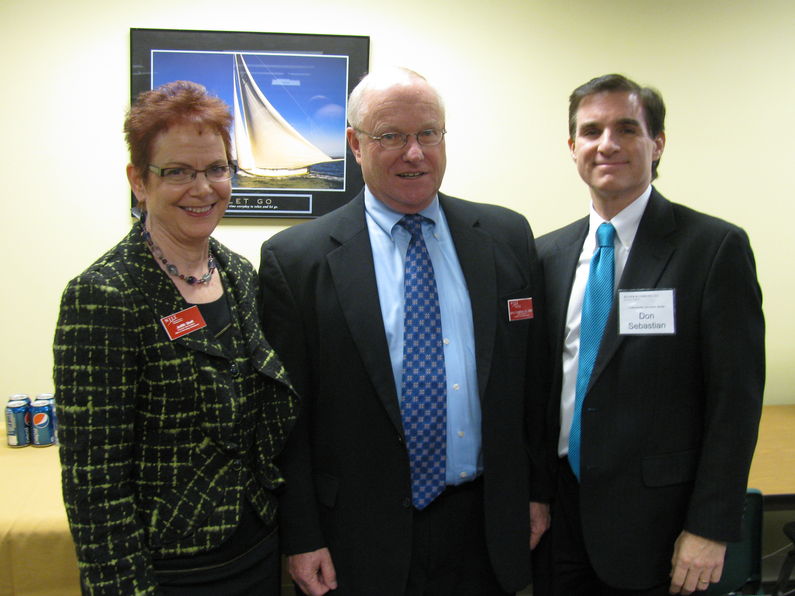 Pictured above is the innovation and entrepreneurship team at New Jersey Institute of Technology: Judy Sheft, Jerry Creighton and Don Sebastian
photo by KULPER & COMPANY
December was a busy month for our firm. On December 7th, we held a regional meeting of the KULPER Advisory Board at NJIT. Our hosts, pictured above, head a $100 million research and innovation program at a leading research university in the United States based in the heart of one of the world's most significant and influential centers of technology innovation and commercialization: the Garden State: New Jersey. Dr Sebastian is the SVP of Research and Innovation at NJIT; Jerry and Judy operate the innovation center and incubator that hosts dozens of early stage companies. NJIT bears watching. The University is growing in leaps and bounds and is a place where entrepreneurs and innovators find a warm welcome. Besides offering solid programs in engineering, business, architecture and the like (think MIT); NJIT discovers new knowledge and builds businesses--a tradition in New Jersey that goes back to the days of Alexander Hamiliton and Thomas Edison, but remains vital in the brilliance of New Jersey based entrepreneurs like: Shihab Kuran of Petra Solar , Mike Epstein of Lightening Energy and John de Neufville of Voltaix.
Our meeting had some nice surprises ----a good friend from my days at Boston College, Rich Russo, (Rich was my freshman adviser) is now CEO of Endomedix Rich's company is currently part of the NJIT incubator. Dr Sebastian asked Rich to discuss his company's innovative new product Hydrogel which is the first all natural, non-synthetic, non-blood derived tissue sealant. I enjoyed reminding Rich of our days hanging out on the "dust bowl" at BC and listening to him describe the ins and outs of college life. He is just as great a guy today as he was way back when----and as a BC Eagle he embodies our motto: "Ever to Excel" while he goes about ramping up his company.
The meeting included a special presentation by Seth Tropper about his fascinating response designed to encourage positive change. Switch2Health provides rewards from businesses that want to incent S2H members pursue healthy physical activity. The meeting concluded with remarks by NJIT Provost and Senior Vice President for Academic Affairs , Ian Gatley, PhD. We thank our friends at NJIT and look forward to continued interactions with them in the days ahead.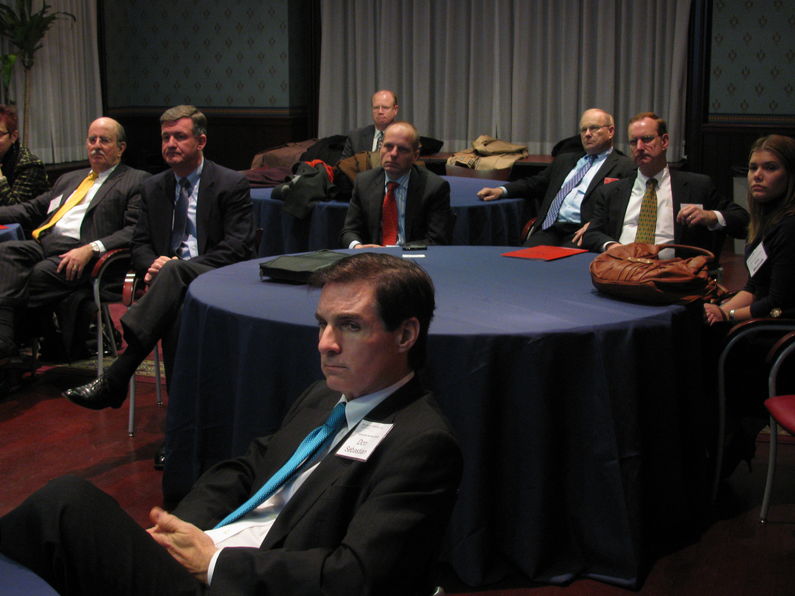 KULPER Advisory Board Members at NJIT Alumni House
photo by KULPER & COMPANY
"
Pre Search" Research
....a KULPER & COMPANY search process addition....
Recently, a friend and client presented us with the following challenge: "If you can show us that you can attract great candidates...we will give you the search". This is an interesting dilemma for a search firm since our purpose in conducting a search is to bring forward the right candidates. So, no matter how you parse it, coming forward with a few good candidates takes a lot of hard work, because we don't just pull candidates out of our data base and see who might look good. Every search is unique, so the research effort to ID candidates has to be carefully wrought based upon an in-depth understanding of the client's hiring need. My friend and mentor, Russ Buchanan would say--"yes, Keith, first listen to the client's need and then sell....you will be much more successful that way!" The reality is, clients feel enormous pressure to fill open positions. Sometimes in their haste to fill them they end up hiring the wrong candidate; it happens all the time.
I am sure that many of the best search firms around the world pride themselves on excellent hiring outcomes---but how do they really do it? We recently completed a very in-depth Pre Search report for a good client and long-time friend of KULPER & COMPANY. What we did was contact thought leaders and top executives in the specific field from where we believe the hired candidate will likely come. We had some of the candidate sources in our contact network but the majority of the people we reached were referred to us as a result of our outbound calling effort. We told them that we were asked by a good client to help better understand who the right candidates might be for the position he needed to fill. We described the position in summary detail and then discussed their reaction to it----questions, comments, suggestions etc. After conducting about 12 interviews like this we wrote up our findings in a report and entitled it: Pre Search Research. The findings are not empirical data---rather, they are impressions about the job opportunity that can be used to shape the position description in a way that will be attractive to qualified candidates and aligned with the consensus of job deliverables/key performance indicators as determined by the client.
This is something new we will be doing now, for all our searches because we want to stay closely aligned with the mantra of our firm: "the right hired candidate".
What in the world is going on in the middle east and north Africa right now? I think we are witnessing the equivalent of the 1989 meltdown of the Soviet Union, the revolutions of 1848 in Europe and many other seemingly spontaneously inspired social movements. The people in these countries want democracy and they are not going to wait any longer for it to happen. Libya's Gaddafi is now feeling the pressure---who will be next? As an American, I applaud the courage of people who are willing to put themselves in harm's way to fight for their freedom. Big changes are coming for the region and the world in the wake of the Revolutions of 2011. I am hopeful and cautiously optimistic that the outcome of these changes will be peace and prosperity. Oil prices jumped on the news and the DOW dropped. It is not that Democracy is bad for markets but clearly, uncertainty is. Godspeed to us all on this one. People everywhere want to be free to pursue their dreams and goals.
Back in 2010, I predicted a DOW of 13500 by year end, 2010. My friend Rick Agresta reminded me of this prediction but was quick to say that I had the direction right---thanks for that Rick! Remember when the DOW was at 6800? That was only 2 years ago. Plenty of pundits were predicting DOW 3000 at that time. Aren't you glad they were wrong? Provided you were long, that is... My belief now is that the DOW will continue its climb as FED monetary policy remains stimulative and our economic crisis slowly but inexorably abates. Hiring is moving in the right direction, too. Companies and universities with strong financial positions are continuing to seek the right leaders for their organizations and the pace of hiring --while not rapid---is definitely quickening. Our phone is ringing here from clients and prospects who feel that they need our help to hire the right candidate----we like it when our phone rings, so, thanks!
A few other items....my friend and teacher Gil Markle runs Passports.com the oldest student travel company in the world. Dr Markle organized the American Leadership Study Group ( the predecessor organization of Passports) back in the late 1960s. When I was a student at Delbarton School in Morristown, NJ my wonderful parents sent me to Europe in 1968 on an ALSG trip with a group of Delbarton students and Fr Karl Roesch, OSB, ( who kept an eye on us!) It was an amazing life changing experience for me. I was 16, traveling around Europe with a group of high schoolers from all over the country. But our leader, Dr Markle made the experience incredible . He made sure that we visited the most historic sites but also had us listen to lectures from experts in the field of art, history, politics and science. We were young----so perhaps we didn't really "get" all of it ---but it was there for us if we could manage to pay attention. Gil is still in the student travel business and I am proud to provide him with my unqualified endorsement and support. By the way----if you are interested in leading a group of students---you might be able to travel free of charge---but you will need to keep an eye on your students! Please check out Passports
News of Sloan Kulper.....thanks for your many questions about our "famous" and very terrific son! He is about to start a 9 month Fulbright Scholar program at BRAC University in Bangladesh where he will be doing research in social entrepreneurship. He is finishing up several other interesting projects at this time---design of a biotech center in China and product design for One Earth Designs. Incidentally, One Earth Design is hiring for a design position in Hong Kong---check it out http://www.coroflot.com/public/job_details.asp?job_id=30983 Sloan will enjoy your notes so feel free to write to him at sloan2@gmail.com
I hope you are doing well in your business and that you will keep in touch with us here at KULPER & COMPANY.
Wishing you warm regards and much Peace,