News
May 18, 2010
NEWS FROM.....KULPER & COMPANY
Hello Contact Network Members:
The season for academic searches is about to conclude. Fiscal year 2011 begins on July 1 for most universities. New senior level hires will be arriving to get settled into their posts during the summer. This is a happy time for our clients and our hired candidates. For some of our prospective clients though, it is challenging time, particularly, if a key position is now unexpectedly vacated as a result of a move up for an incumbent or an unexpected transition. It can mean a 1 year hiatus for a key role like: Provost, Dean or VP at a time that is not convenient or particularly helpful for the University.
If you and your colleagues are facing a transition challenge like this we will be glad to try to be of help. We will listen and be responsive. It might make sense to begin the preparations for a National search in the weeks ahead, instead of waiting until September to charge a search committee and select a search firm. If this is your situation, we want to hear from you. We will be glad to try to be of help.....Please call me directly at 973 285 3850.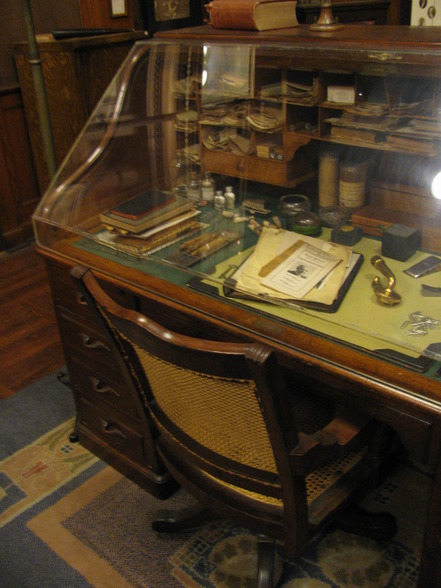 KULPER Advisory Board (AB) Meeting: May 25, 2010
Thomas A. Edison's desk: Edison National Historic Site, West Orange, NJ
This year's advisory board meeting promises to be excellent. We will be gathering at the Edison Historic Site & Lab in West Orange NJ. We picked this venue because it is a national treasure that so many have not yet visited and is symbolic of our firm's commitment to innovation and entrepreneurship. It is, of course, where Thomas Edison and his team invented and commercialized hundreds of important products that today provide innumerable benefits for people everywhere. We are fortunate that his lab has been so carefully preserved by the National Park Service. It was just re-opened after a 5 year renovation.
Our strong interest in working with companies and higher education institutions devoted to innovation and entrepreneurship continues to grow and develop. At the AB Meeting, panel discussions will be led by Chuck Rutledge, Managing Director, Precise Insights and Dr. Helena Wisniewski, CEO of Equinox Toys. Their panels will be composed of university leaders, company CEOs as well as marketing, IT, finance and other professionals. Discussions will center on the close interaction of these leaders to further their aims by leveraging entrepreneurship and innovation in our nation's universities and corporations.
The AB members will also hear from Michael Epstein, CEO of Lightening Energy (LE), which is a company devoted to the development of advanced battery systems for plug hybrid and electric automobiles as well as many other vital applications requiring a portable power source. LE is headquartered in here in northern New Jersey at the Picattiny Innovation Center--one of several Federal Incubators located around the country.
This year's AB meeting is fully subscribed---space was limited because we will be in an historic building---but if you are interested in learning about the KULPER AB so you can participate in future meetings, please reply to this message. Regional meetings will be held nearby and around the country, and there are opportunities to serve and lead various committees as well. The AB is a great way to meet other senior level professionals, enrich your professional career and help a good search firm become a great one.
My hope for the DOW to break back through 11000 (and on up) is still strong. We have been through a lot over the past few years and while we must continue to deal with a wide array of challenges, our economy is poised for steadily improving results.
Clearly, hiring (and cash flow to pay for new hires) will fuel a consumer led rebound----but it will be a slow steady process---not a big jump! Corporate earnings results are very positive at this time and should only keep improving as inventories get replenished and product/service demand increases. Home sales are stronger. Have you noticed that the house around the corner that was on the market for a while, finally "sold"--or underwent a significant renovation? The overhang of foreclosures is a real problem but it can only be totally eliminated when cash flow from new jobs happens at a faster pace. Politicians constantly sing this mantra---and they are right. Jobs provide the fuel for our economy.
By the time of the November elections the story will be better than today--how much "better" will hinge on the belief that demand for products and services is continuing to grow, not topping off. Clearly a chicken and egg type phenomenon, but our business leaders are not dumb.... they know when they have to hire; their current staff just can't get it done without more help and so they go ahead and reluctantly authorize the hires. It is the last event in the string of events involved with an economic recovery....it is happening, now and will accelerate as the year progresses; 2011 should be particularly strong for job growth.
What will happen with the mid-term elections? If England is any indication the tilt toward the "conservative moderate" vs. the "liberal moderate", ought to continue. People want change ---because change --or call it "adaptation"--is fundamental to survival. So, as America adapts to its many challenges I am certain the debates will ultimately produce bills that get signed into law that will deal with financial regulation, immigration, the environment and other important initiatives. Our republic is something great; do what you can to make it even better.
Wishing you and your family all the best.